AQHA Sorrel Filly Born March 11  

                         $750 obo

Sire: Dunna Be Peppy  Dam Stradling Rose

This is a pretty filly with a cute little head and really heavy hindquarters.  She has a part blue left eye,  chrome.  Available by herself or with her dam as a three in one.

APHA Solid Palomino Stallion born  April 8

Sire: Kellys Easter Jet, Dam: Amber Easy Jet.  This colt is a reall  looker.  Amber's folas always make really great horses.  His is bult right and has lots of color to go with it.

APHA  Solid Red Roan Stallion  Born April 24

Sire: Kelly's Easter Jet, Dam: Sunny Rose Areta.  This is a cute, really built colt.  He will make a smooth, beautiful mover.   Really top notch performance bloodlines, including Sonny Dee Bar.

SOLD

APHA Awesome Overo Stallion Born May 5

Sire: A Social Affair, Dam: I Bee Treasured.  This colt is a great example of a frame overo.  He is very attractive, put together perfectly and has a nice quitet attitude.  Really flashy!                 

APHA Sorrel Tobiano Stallion born March 29.  Sire: Dunna Be Peppy (AQHA), dam: I'm Just Intimadating.  This is a terrific colt!  First time to make this cross, won't be the last.  Baby doll head.  huge hind end, all kinds of potential.            $1250

APHA Dun Tobiano Stallion born May 2  Sire: Dunna Be Peppy (AQHA), Dam: Easy Jet Rose.  This colt is really special.  Great temperament, wonderful color and pattern.  Will be big and built.Awesome stud prospect.                            $2000

Pending--

Jennifer and Erik took him off the market!

APHA Brown Tobiano Filly born   May 13

Sire: Dunna Be Peppy (AQHA), Dam: Dirt On My Frsoting.  This is the cutest feminine little gal!  Baby doll head and long legs.  Will be a heart breaker!      $1000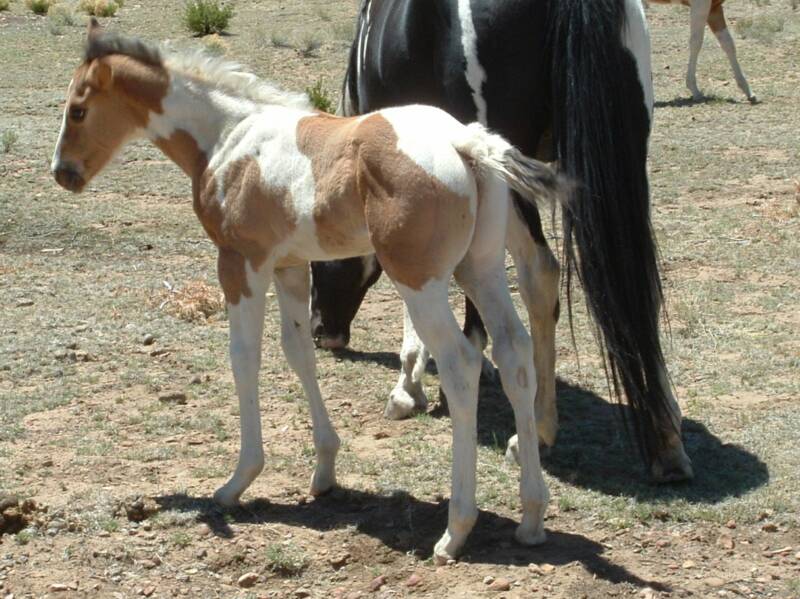 This page was last updated: March 17, 2011
SOLD  AQHA Sorrel Filly  Docca Peppa  Born June 17

Sire: Dunna Be Peppy, Dam: Peppys Dandy Honey.  This filly should be NFQR eligible.  Exceptionally well bred filly!  Lots of cow, lots of athletic ability,when you're done riding her, and excellent brood mare           $650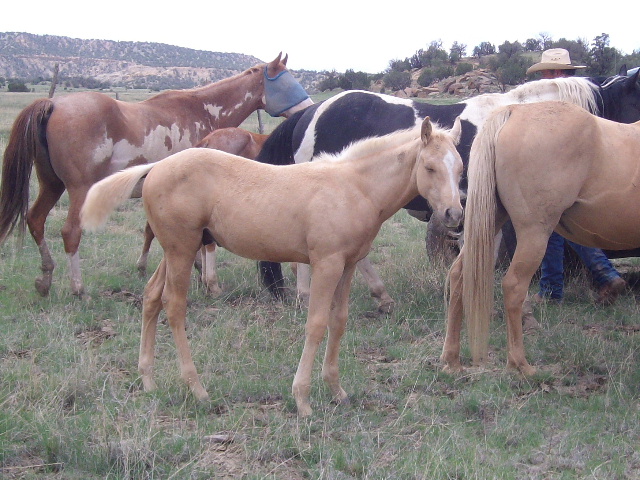 APHA Palomino tovero Filly Born July 14

Sire: A Social Affair Dam: Dalton's Last Treasure.     This is a maximum cute filly with high white and blue eyes that are surrounded by color.  Treasure always throws the stoutest most  athletic foals out of Tuxy. $650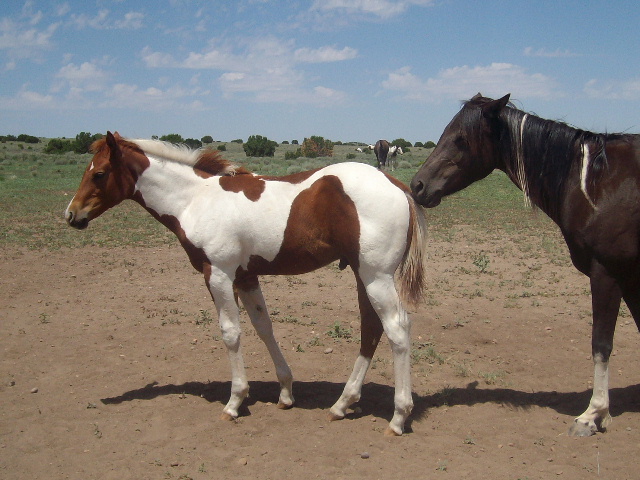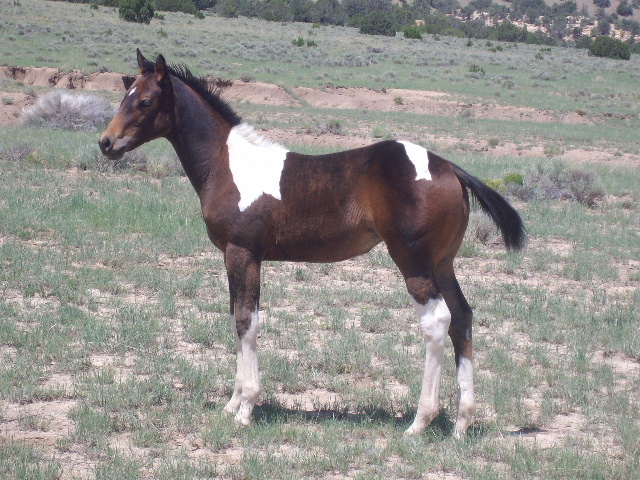 APHA Black Tobianno Colt Born August 5 . Sire: A Social Affair, Dam: Casey Is My Name.

This is a really cute colt with a blaze face and two blue eyes which makes him a little unusual.  He will be big and sweet as all of Casey's foals are!

                                                 $650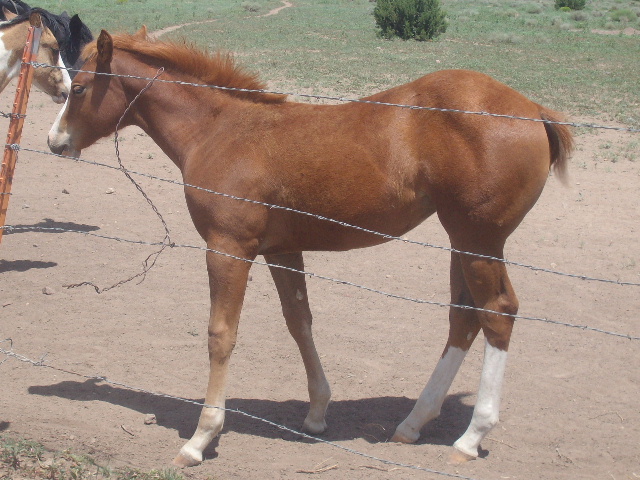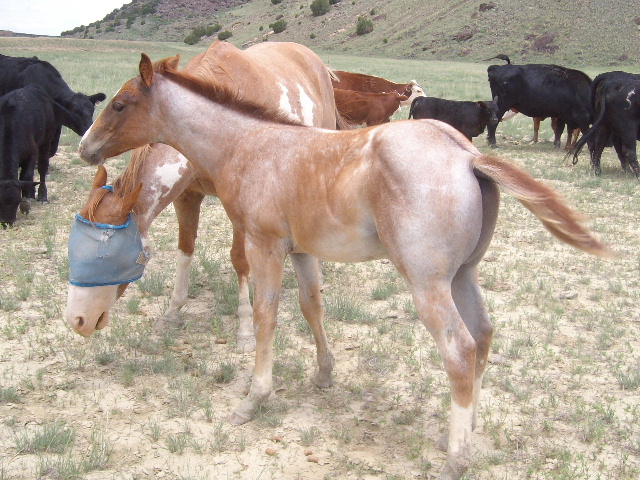 SOLD--Thanks Manuel of Santa Fe

SOLD--Thanks Robin of CO!!!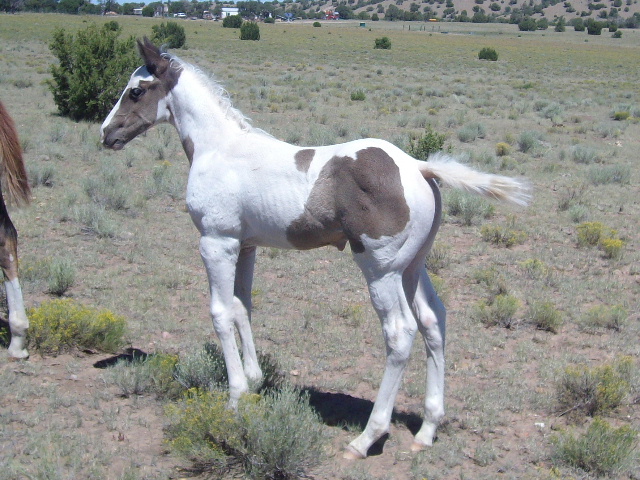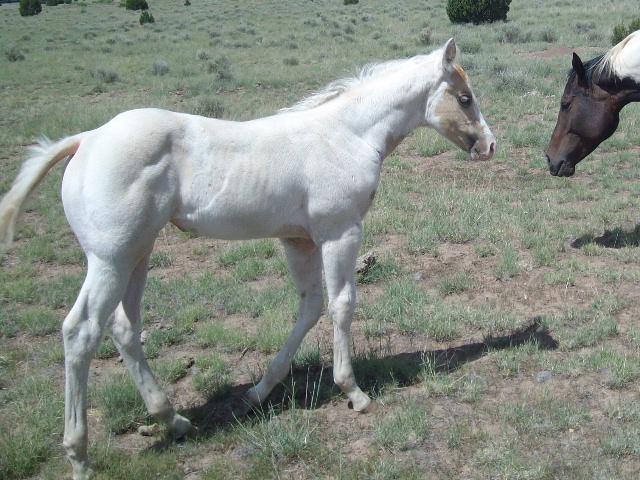 SOLD

This nice filly will be at Amber's house soon!  Thanks Karen!!

Sold Thanks

Theresa for taking over this horse and doing great with him!

SOLD,

Thanks Jasona nd Shanda of Moriarity

SOLD

Thanks

Justin and

Robin of CO !!