Slash RS Paint Horses

Unique Horses for  Unique People

Smoky




19yr. old

Grullo Grade Gelding
Smoky has been a star of the ranch for nearly 12 years now.  He has done everything we do and done it well.  He is an excellent  mount for beginner to intermediate riders.  Teens or adults will have fun riding him!  He has lots of gas and will go anywhere: rocks, rivers, steep slopes, etc.  He has worked cattle and packed deer, elk and  lion.  He has no faults and is sound and ready to go!  I had cousins here last week and we rode him every day and he was still fresh and ready to step out!  We have not had small children on him, and he may have too much "go" for them.  But for all else he will be a safe nad fun ride!  We are only selling him because our horses must run out in the winter with little supplemental feed.  At his age, he finds it more difficult to keep his weight during these hard winters.  Smoky is a very easy keeper and a willing partner. With regular feeding, he should last many more years! To good home only!               $1200    

Shep




16 yr old

Bay

Grade Gelding
Shep and Smoky have been buddies for years!  Shep has also done all we do and done it well.  He is a quiet and dependable mount.  Shep has had  many small children on his back and listens well to them.  He is very gentle and slow with them.  He will mostly walk with small kids, which is exactly what you want!  My cousin Pat rode him gathering cattle, and she had him galloping all over, so he changes his speed with the rider's level of competence.  He is not a very pretty horse on the outside but his heart is golden.  He also has no flaws or problems, is sound and ready to go!  We have never shod Shep's back feet.  He has been all over rocky country and never becomes sore, so only two shoes to buy is kind of a bonus!  This faithful guy will carry your small kids for years to come.  He

also suffers in the winters, but is easy to maintain on feed.  My grandkids have ridden this horse lots, so I am not afraid to say he is really kid safe!!!!!!!                         $700

Kelly's Cruisin' Speed

  5yr

Black Tobiano APHA Gelding
Speed is a very nice young gelding!  Because of his young age, I still consider him green broke. An experienced rider will have no problem molding him into the typeof horse wanted.   He has a gentle, cooperative temperament and a fun personality.  He really likes people and thinks he should always be the center of attention..

He is incredibly easy to catch and halter.  He acccepts saddle and rider well, and is neck reining pretty good.  He has no arena training on him, just ourside riding.  He is ready for whatever discipline you choose for him.  We haul our horses mostly  in a stock type  trailer and l Speed loads readily.  We still have one person to hold him and distract him while he is being trimmed and shod, but he is not kicky or mean, just impatient.  This will pass with time and regular gentle shoeing.

Speed is a half inch shy of 15 hands and still growing.  Sire is 15.1 and dam is 15.2 hands.  I have been able to ride him since Sam first broke him as he never wanted to buck.  He should become a real dependable horse very

quickly.

Speed is very athletic and catty on his feet.  He will make someone a really good horse!!!






$2000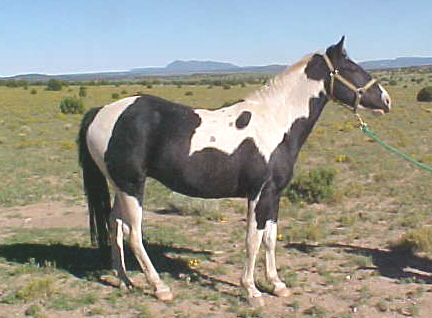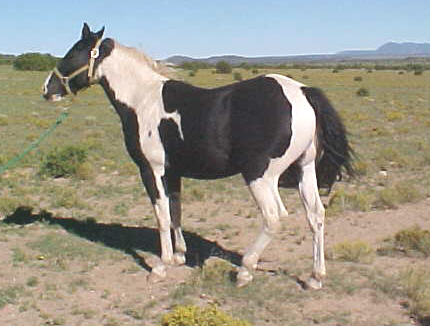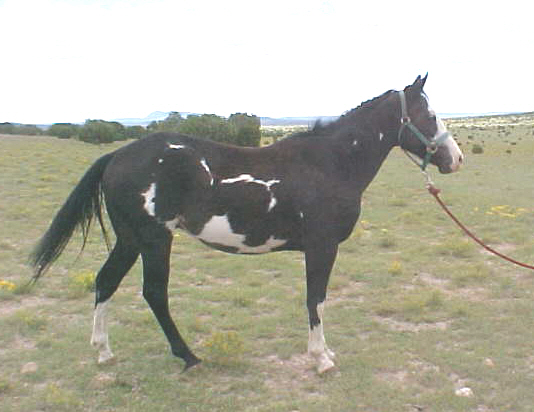 Dixie's Rattler Affair    2001   APHA    Gelding               

Rattler is a striking dark brown overo gelding.  He has had just over 30 days under the saddle and is doing very well.  He is a large colt at nearly 15 hands and 1000 lbs.  He should mature into a large horse.  His dam, Gambling Dixie, holds two ROMs and numberous points in many events.  She is 16.1 hands and a daughter of the versatile and well known Gambling Man APHA.

Rattler's sire, A Social Affair carries the blood of many wellbred horses, including Two-Eyed Jack, King,  Leo, Croton Oil and many others.

Rattler has the mind and physical ability to do anything in or out of the show ring.  He is doing everything right and just needs the right person to take him and make him their next great show horse!

$4000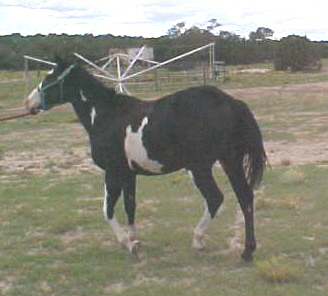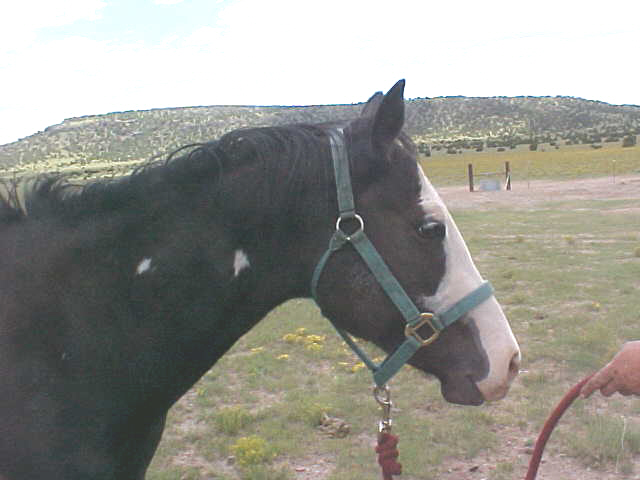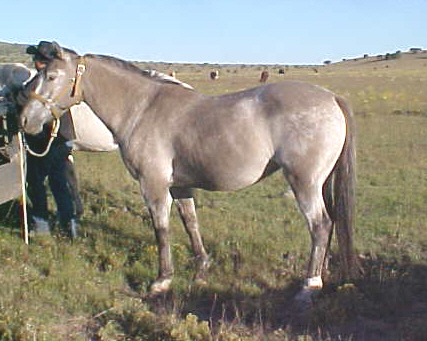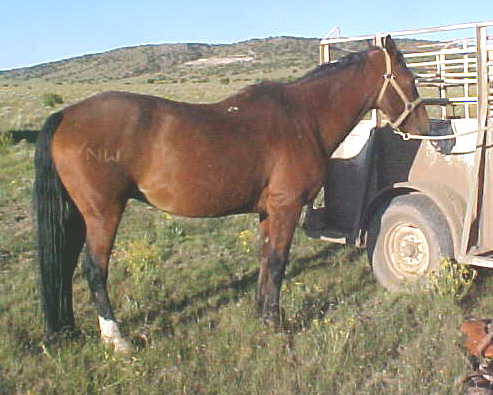 Thanks Holley, Chris  and kids of AZ!!!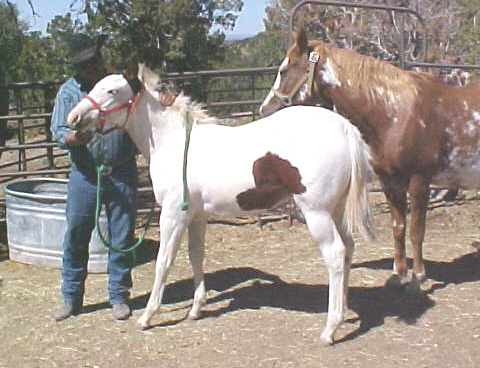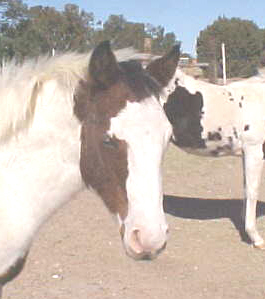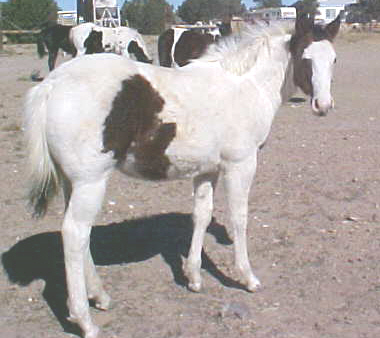 2003 Medicine Hat Tob-Overo Pinto Colt !!

Sire: Kellys Easter Jett APHA   Dam: Rays LIttle Fancy, Pinto Horse Assoc. of Am.

This is a really beautiful and rare medicine hat colt.  He has great conformation and is really stout and will be heavy.  He has good bone and a pretty head.  His personality is really sweet and he is EXTREMELY friendly!  He really likes people and likes attention.  He is hard to get a picture of because he is always walking towards me.  This colt is halter broke and gentle.  Will walk right up to you and lets his feet be handled.  Likes to be combed and brushed and knows people are his friends.  He has had a good start and will mature into a nice horse, probably around 15 hands and 1200 pounds area.  This colt could make that horse lover in your family very happy!!!  He was on hold for a month, but is back on the market.  Photos show him in winter fur on left, and slicked out on right.  This colt is a real dandy!

He is a great deal at $700!!!!!

See more photos of Medicine Man on Pinto Foals page.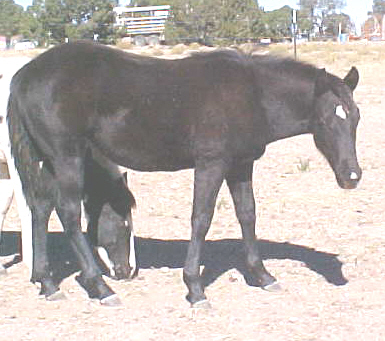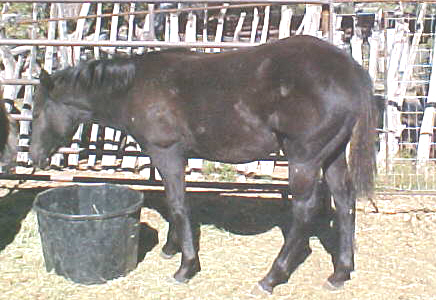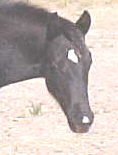 2003 Black Solid Pinto Filly

Priced to sell at $700!!!!!

Sire: A Social Affair, APHA  Dam:  Ray's Hot Shot, Pinto Horse Assoc. of America.

Miss Velvet carries the blood of both our good stallions.  Her  dam's sire is Kellys Easter Jet and Velvet is a daughter of A Social Affair.  This is going to be a good sized mare, and a beautiful one!  She has excellent conformation and already shows width in her chest and hips and is very  well muscled.  She has a pretty head and neck and carries plenty of bone with a feminine, refined look.  Velvet is also a very sweet filly and is very friendly.  She is very social and likes attention.  She is easy to halter and lead and allows her feet to be handled.  This filly has a nice attitude and with her sire being 15.1, will be in a similar range I believe.  She has the attitude and build to do whatever you would like her to.  Velvet would make a nice addition to any family's herd!

Thanks Kathryn of AZ, may you have many happy trail rides together!

Speed is fine!  He is so fine we are taking him off the market for now.       He is no longer for sale.  We may place him for sale again, later.

Congratulations and thanks to Mike, Tana and Tanniya of NM!

May he be as good of a rope horse as Rowdy!  

To see more horses for sale, please visit our 2004 Foals page as well as our other Horses 4 Sale page.  Thanks!

thank you John of Smith, NV!  Hope MM is a great Cowboy Action Shooting Mout!

Thanks Tawnya and family of AZ!  I am sure Velvet will enjoy being your family horse!