APHA Black Tobiano Stud Colt         Born February 28

Sire: Kelly's Easter Jet  Dam: Easy Jet Rose

This is a beautifully marked little speedster with the blood to run like the wind.  Very nice friendly and fun personality.  Stud prospect, race, rope,  you name it.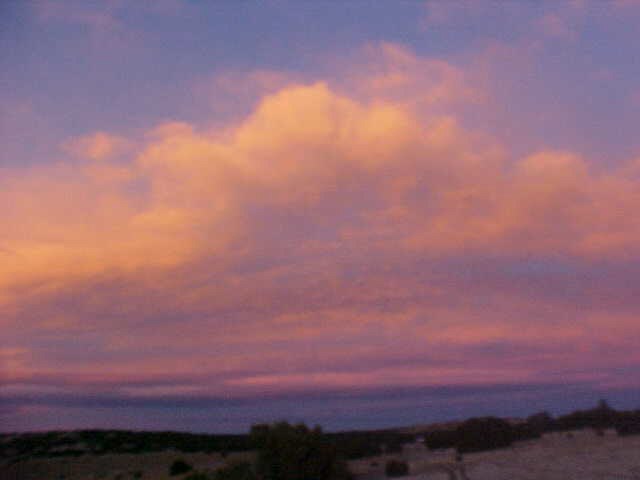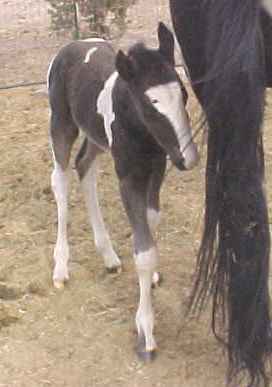 This page was last updated: October 25, 2010
Click on photos for more info (sorry not all are completed)

Prices subject to change.

Delivery available  at extra charge.

Make an offer, the worst we'll do is say no.

Discounts for multiple purchases.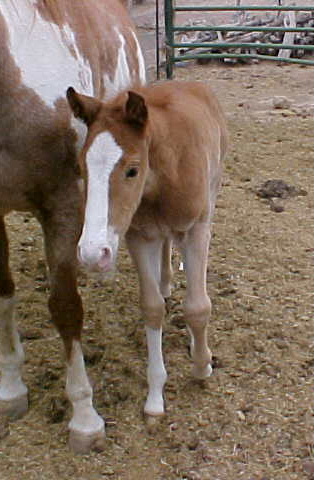 APHA Black Overo Stud Colt        Born April 19

Sire: A Social Affair        Dam:  Cute Honey

"Pete" is a real charmer.  Should make a big, stout horse with a little chrome.  He's got a blue and a part blue eye.   Really nice and friendly.     A Steal at this price!                                             $650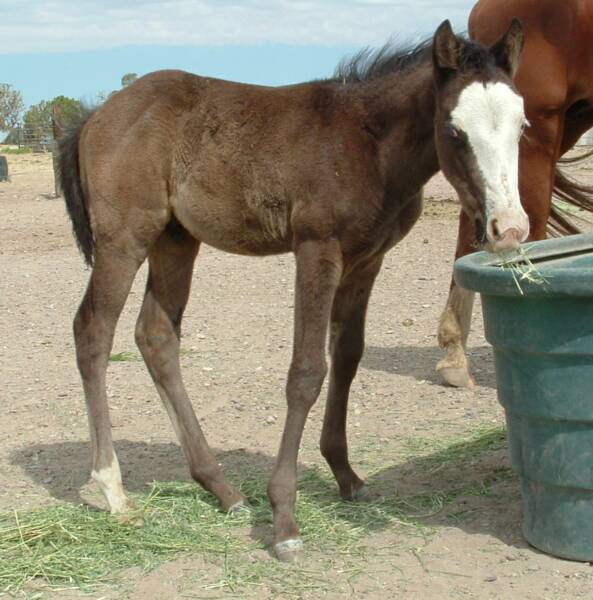 APHA Bay Tobiano Stud Colt        BD April 24

Sire: Kellys Easter Jet  Dam: Amber Easy Jet

This is the kind we all wish for!  Conformation, muscling and bloodlines with a nice gentle attitude.  A definite stud prospect, this colt should be able to do anything --cowy and extremely athletic.                            $800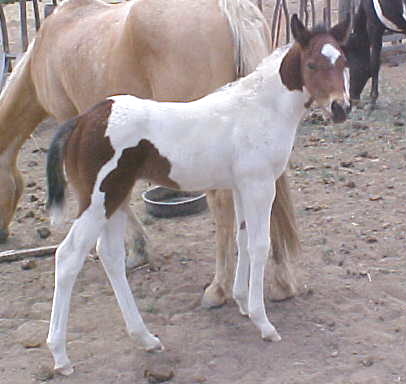 APHA Brown Solid Stud Colt     Born  April  29

Sire: A Social Affair     Dam:  I Bee Treasured

This will be another exceptional colt, big, built and very well muscled.  Bee is very consistent in her foals.  A pretty star on his face is his only white, but he is extremely athletic and should make a great performer!          $400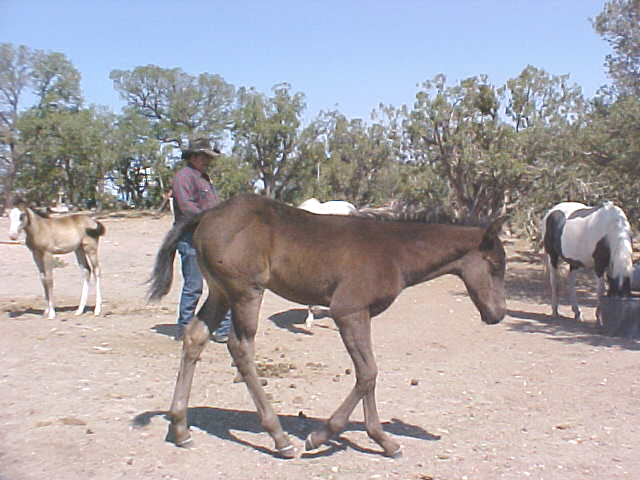 APHA  Brown Overo Filly                Born May 1

Sire: A Sccial Affair  Dam:  She's No Gamble

This very well built and muscled filly has it all.  Looks, personality and lots of friendly!  She has a blue and part blue eye and overo markings on her belly and hind leg.     $1500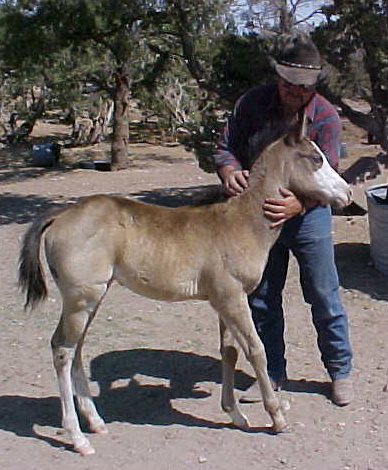 APHA Perlino Tovero Filly   Born May 26

Sire: A Social Affair  Dam I'm Just Imtimidating.  This is a gorgeous filly!  Built and muscled with long legs!  We were a little unclear on her color earlier, but the

APHA says she is perlino.  She is dynamite!  Don't miss this gal, from cutting to reining, she will kick it with plenty of speed.   Once you are done riding, she will produce buckskin after bucksikin.               $1500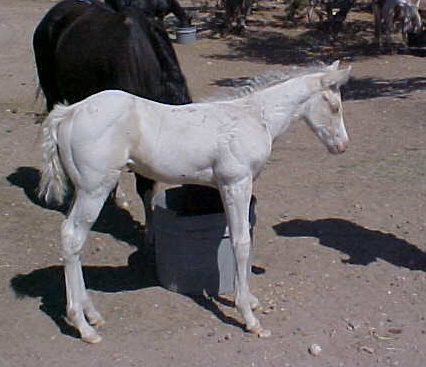 APHA Black Tobiano Stud Colt Born May 28

Sire: Kellys Easter Jet  Dam:  Poco Joker

This eye popping colt will not last long at this price!  Poco always makes a BIG stout baby!  I think Sam is nuts for pricing him so low, but I know someone out there will be real happy about it!                              $800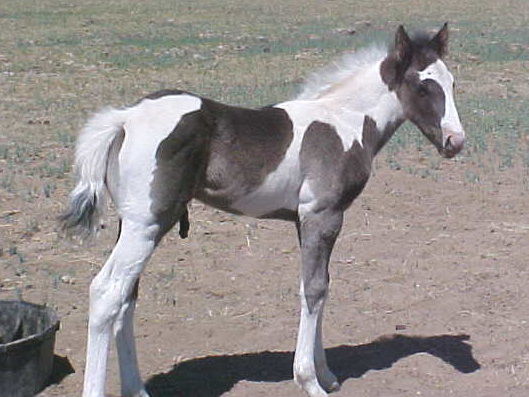 APHA Black Tobiano Filly         Born May 30

Sire: Kellys Easter Jet  Dam: Dalton's Last Treasure.  This little filly is her mom's first, but she is a dandy!  Looks like she could be homozygous from her markings, but not tested.  Lots of speed top and bottom and is already thick  She is a real sweetie, too!                                 $500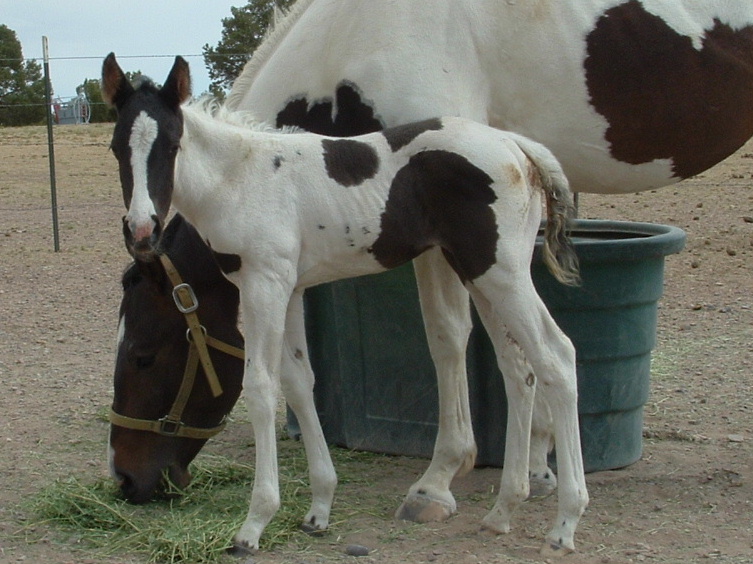 APHA Brown Tobiano Filly       Born June 5

Sire:  Kellys Easter Jet  Dam:  Dirt On My Frosting.  This is Dot's first filly nad she is a great one!  Looks just like mom and promises to be big and sweet just like her, too.  I am sure she is homozygous like her mom, but she is not tested.  All kinds of good ones in her bloodlines.  This gal should do it all!                           $800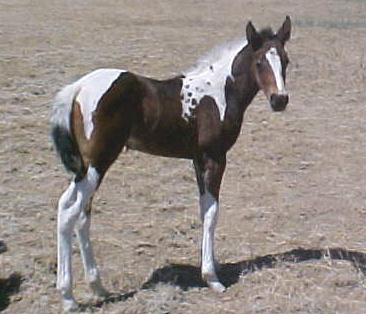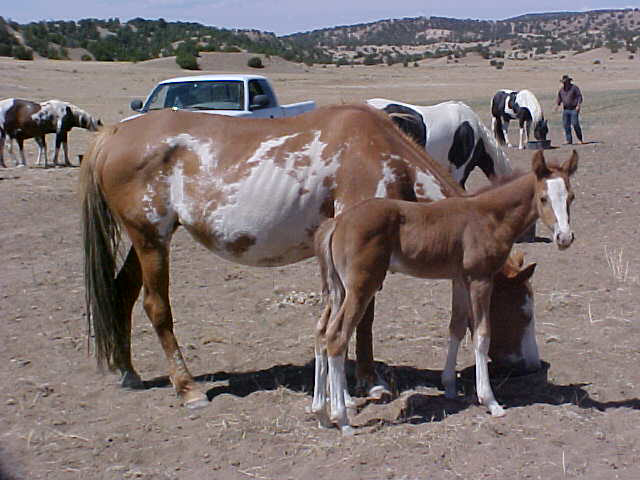 Sorrel Stud Colt, NOT APHA.  This is a fancy little colt.  Four white socks,  nice blaze.  One stirp of white on his back!  He will be medium size, very stout and with lots of personality.  Sired by Kellys Easter Jet, Dam is Fancy, grade mare.  Could be registered as pinto if you like.                                                         $350

Not for sale, sorry, this is Sam's horse!

APHA Black Solid Stud Colt  Born July 5.  Sire: Kelly's Easter Jet

Dam: Peppy's Dandy Honey, AQHA

This is a real Black Beauty!  Star and snip on his face and three short white socks make him really flashy to look at.  His bloodlines speak for themselves.  His four year old full brother is one of Sam's favorite ranch horses.             $1000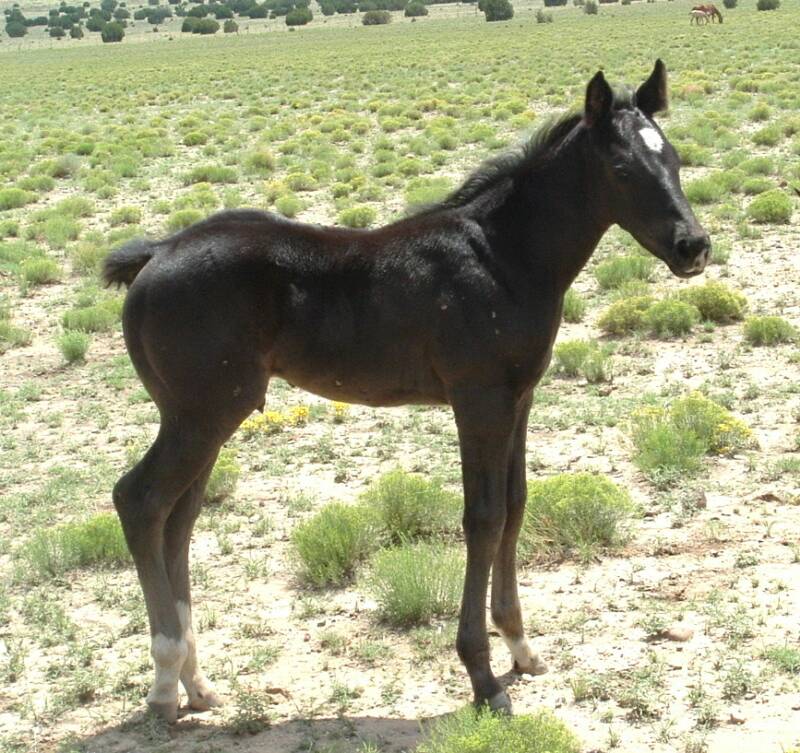 APHA Black Tovero Stud Colt Born July 25

Sire: A Social Affair, Dam: Casey is My Name

This mare always gives us a big, swett, beatuful baby and she out did herself this year.  He was born late but will make up for that real quick.  Will not be weaned until December, so makes the perfect Christmas present.  Loud colored, very nice attitude, will just be big and able to do pretty much anything.  If you are thinking of a stud prospect, his temperament , blood and looks will put him at the top of the list.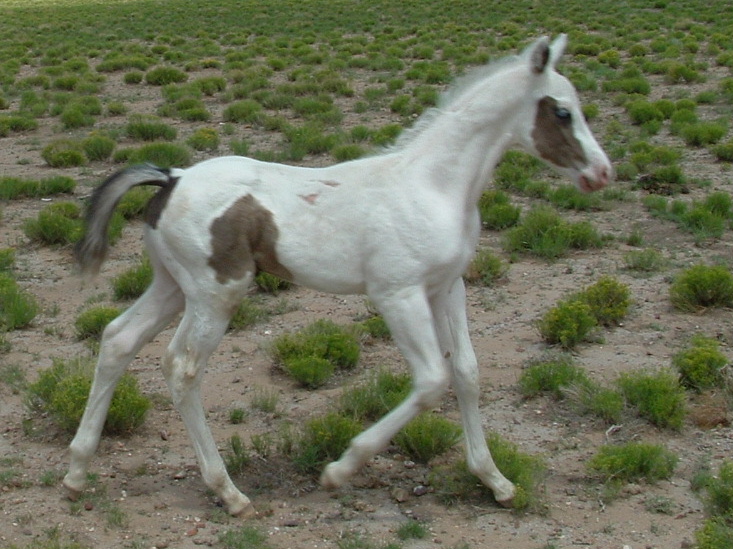 Solid grade Buckskin Colt Born July 17

Sire: A Social Affair Dam: Hot Shot

This colt is another one of Sam's horses!

He is not for sale, but too pretty to resist showing off!  Great color, great form, great temperament.  He will make a great ranch gelding.  Carries the blood of both our  Paint stallions.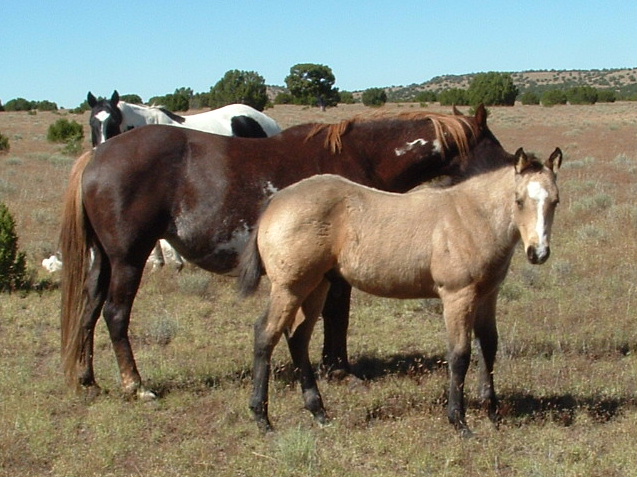 S

O

L

D

Thanks Beth of Edgewood, enjoy her lots!

Thanks and Congrats to Tom of Arizona!

SOLD

Thanks and congrats to Jennifer and Lindsey of Alamagordo!

SOLD

Thanks and congrats to Tawnya of Phoenix area!  Enjoy him

APHA Sorrel Solid Stdu Colt        Born: March 24

Sire: KElly's Easter Jet  Dam:  Sunny Rose Areta

S

O

L

D

Thanks to Mary, Safford,

AZ

I like this one so much, I think I will keep her!